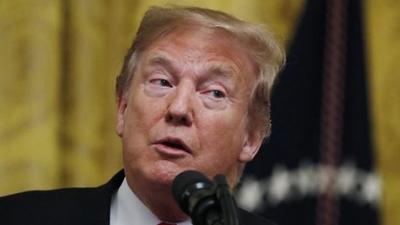 The House has voted 275-134 to increase COVID-19 relief checks to $2,000 under the CASH Act, achieving the 2/3 majority needed to pass. 44 Republicans voted for it along with nearly all of the Democrats.
The bill will now go to the Senate where it will likely suffer a swift death.
275-143: House passes legislation to increase direct payments in COVID-19 relief law to individuals from $600 to $2,000, with 2/3rds majority vote needed. 44 Republicans voted Yes with nearly all Democrats. CASH Act now heads to the Senate. pic.twitter.com/XqvGy8tGq0

— Craig Caplan (@CraigCaplan) December 28, 2020
According to the US Treasury Department, $600 COVID direct stimulus checks will begin to be delivered by the end of the week, after President Trump caved over the weekend and signed the $900 Billion pandemic relief package, according to NBC News.
We're assuming at this point $2,000 checks are DOA.
The House of Representatives are preparing to vote Monday evening on whether to override President Trump's veto of the $740 billion 2021 National Defense Authorization Act (NDAA) – which passed both chambers of Congress earlier this month with margins large enough to override the veto.
That said, several lawmakers have suggested in recent days that the override may be in jeopardy if some Republicans change course and back Trump – which risks falling short of the two-thirds majority of votes in the House and Senate to make the bill veto-proof.
"I don't want to say I'm confident because we are in such a time that I just have no idea right now," Rep. Adam Kinzinger (R-IL) told CNN on Sunday. "But, you know, we passed with a significant amount of votes. There is some flex to lose some people that voted for it that don't vote to override the veto. That would be a tough one for me to explain, I just don't know how you do it. Hopefully, we can still get it overridden."
For the override to fail, dozens of Republicans would need to flip their votes, while some Democrats who previously voted against the defense bill could switch votes.
Trump vetoed the NDAA last week, arguing that it doesn't make changes to a law which provides liability protections to tech companies (section 203), and authorized the renaming of military bases named after Confederate generals.
On Sunday, President Trump relented and signed the COVID-19 relief and government spending bill, averting a government shutdown starting on Tuesday and preserving pandemic relief measures which were set to lapse on Dec. 31.
Meanwhile, in another Monday vote, House Democrats are set to approve a measure to replace the $600 stimulus payments in the newly enacted pandemic relief law with $2,000 checks demanded by President Trump before he caved and signed the bill.
The bill requires two-thirds support to clear the House, and will undoubtedly fail in the still-GOP-controlled Senate.


Via Zero Hedge