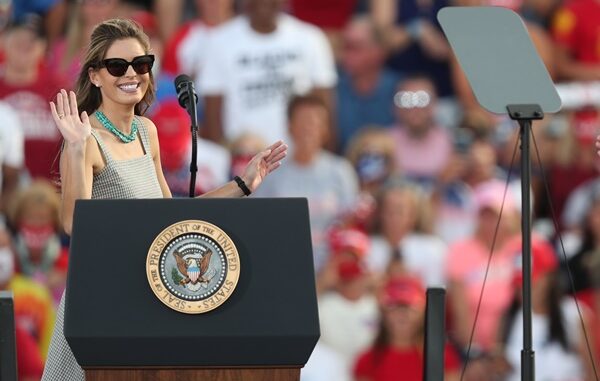 President Donald Trump called longtime aide Hope Hicks onto the stage at his Friday Florida rally — leading a chant: "We want Hope" among the packed crowd at the outdoor campaign event.
"The great Hope Hicks," Trump said, acknowledging that like he did, Hicks tested positive for the coronavirus.
"But she's ok," Trump said, looking around and pleading, "Where's Hope? … Come here Hope! She's shy but not that shy."
The president then led the crowd in a chant: "We want Hope."
Hicks laughed and waved to the crowd after walking onto the outdoor stage in Ocala, joking: "We can share a microphone now.'
"Thank you all. Thank you, President Trump. I have stage fright, so … " she said, quickly exiting the stage.
Neither she nor Trump wore masks.
Video of the event was posted by Fox News.
Hicks had traveled with the president aboard Air Force One both Thursday and Friday, according to the Daily Mail.
Via Newsmax