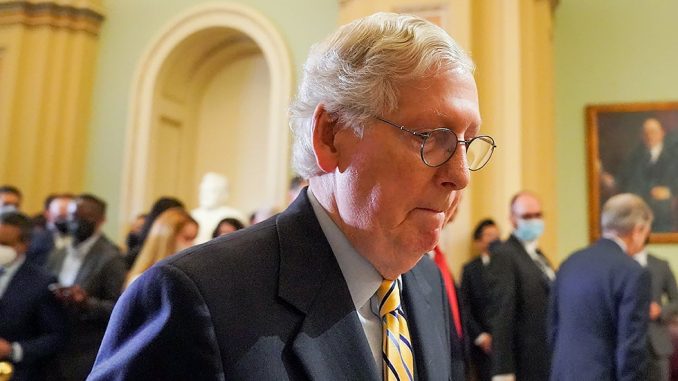 Sen. Lindsey Graham (R-S.C.) has told colleagues that former President Trump has conceded in recent private conversations that Sen. Mitch McConnell (Ky.) "helped" him during his four years in office, even as the former president rails against the Republican leader in public.
Two GOP senators told The Hill about the conversations Graham, who played golf with Trump over the weekend, has had with his GOP colleagues.
One GOP senator described Graham as trying to mend fences between the two most powerful Republicans in the country, who have publicly warred throughout 2021.
"Lindsey was with the president this last weekend. From what I understand Trump said something complimentary about Mitch," said a GOP senator, who described Graham's efforts to help bury the hatchet between McConnell and Trump.
Another senator confirmed that Trump conceded to Graham that McConnell had indeed helped him at key moments, even though Trump now bashes McConnell regularly in public statements.
Asked why Trump continues to attack McConnell even though he acknowledges he was a helpful ally while in office, the GOP lawmaker only gave a perplexed shrug.
McConnell and Trump have been in a decidedly one-way battle ever since McConnell gave a blistering floor speech criticizing Trump for his role in the Jan. 6 riot at the Capitol.
The GOP leader did not vote to impeach Trump, and he has not notably criticized the former president since that speech. Trump regularly rips McConnell publicly, but the GOP leader makes a point of not responding to the gibes.
The battles have stirred concern in GOP circles. Many Republicans believe the infighting hurts the GOP as a party.
Graham, who has the strongest relationship with Trump of anyone in the Senate Republican Conference, appears to be playing the role of peacemaker between the two GOP powerbrokers.
The South Carolina senator, who has had his own up-and-down relationship with Trump, has urged the ex-president to work with McConnell and Senate Republicans on winning back the upper chamber in the 2022 midterm elections, instead of rehashing their disagreements over the 2020 election.
Graham on Tuesday confirmed that he spent time with Trump this weekend but declined to comment on their conversations.
"I gotta go," Graham said, scrolling through his smartphone, when asked about the Trump-McConnell relationship.
Trump, who is openly considering another run for the White House, has repeatedly lashed out against McConnell since leaving office, and The Wall Street Journal reported Sunday that Trump has spoken recently to GOP senators and allies in an effort to replace McConnell as the Senate GOP leader. The effort, however, has failed to gain any traction.
Senate Minority Whip John Thune (S.D.), the No. 2-ranking member of the GOP leadership, said McConnell's support in the GOP is "solid" and that colleagues "have a high level of confidence in his ability to navigate on very difficult, thorny issues."
Many other Republican senators, including Trump allies such as Sens. Tommy Tuberville (Ala.) and John Kennedy (La.), say they don't expect anyone to challenge McConnell for the top leadership job.
"That's not going to happen. There's full support for Mitch McConnell in our caucus and there will be no change there," said Sen. Mitt Romney (Utah), Trump's biggest critic in the Senate GOP conference.
That may be why Trump over the weekend was willing to admit that having McConnell in charge of the conference had some benefits for his administration.
McConnell did shepherd several of Trump's biggest accomplishments through Congress.
As majority leader, McConnell was instrumental in getting three of Trump's conservative nominees confirmed to the Supreme Court: Neil Gorsuch, Brett Kavanaugh and Amy Coney Barrett.
McConnell gave Trump the opportunity to nominate Gorsuch to the seat long held by late conservative Justice Antonin Scalia by keeping Scalia's seat vacant for months by refusing to give former President Obama's nominee, Merrick Garland, a Senate hearing.
McConnell kept his conference nearly unified — apart from Sen. Lisa Murkowski (Alaska) — when Kavanaugh's nomination appeared to be in grave danger following multiple allegations of sexual misconduct.
And the GOP leader got Coney Barrett confirmed in record time, scheduling a vote days before the 2020 election and leaving nothing to chance in case Trump lost.
McConnell also used the budget reconciliation process to get Trump's Tax Cuts and Jobs Act, his signature legislative achievement, passed with only Republican votes in December 2017.
Despite their track record of success, Trump's view of McConnell soured dramatically after the senator blamed him for inciting the Jan. 6 storming of the Capitol.
Now he rarely misses an opportunity to take a shot at the minority leader.
Trump criticized McConnell last month for voting for a $1 trillion bipartisan infrastructure package, calling him "the most overrated man in politics."
When asked about Trump's barbs, McConnell usually says he's more focused on fighting President Biden's policy agenda and helping win back Republican control of the Senate in 2022.
Through his political allies, he helped raise $470 million for Senate Republican candidates in the 2020 election cycle, according to a source familiar with the fundraising total.
McConnell's defenders point out that Trump has yet to make any donations to Republican campaigns this year, despite having $102 million in his campaign account.
Republican senators say McConnell isn't worried about Trump's salvos.
"I can tell you Mitch is very relaxed about that," said a GOP senator who pointed out that fellow Republican senators regularly voice support for McConnell when asked about Trump's attacks.
"McConnell is very good at compartmentalizing," said a second Republican senator.
Even so, McConnell doesn't like to talk about Trump publicly.
Asked Tuesday about The Wall Street Journal report about Trump trying to find someone to challenge him, McConnell replied tersely: "I don't have any reaction to that," before abruptly ending his weekly press conference.
Murkowski, who voted to convict Trump of an impeachment charge, said the ongoing feud is bad for the party.
"I think that our leader has the support of our conference and that's what matters," she said. "When a former president works against our own Republican leader, I don't think that's helpful for our conference."
Via The Hill