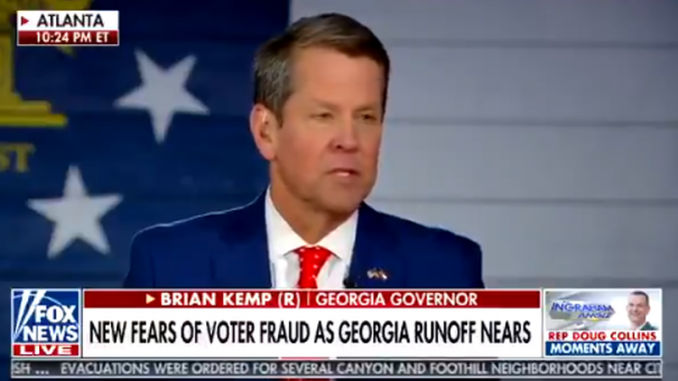 Georgia Governor Brian Kemp (R) has called for a signature audit of the 2020 election after CCTV footage from election night appears to show several Atlanta poll workers engaged in late-night ballot fraud.
"I called early on for a signature audit," Kemp said in an interview with Fox News's "Ingraham Angle," adding "I think it should be done… I think, especially with what we saw today – it raises more questions."
JUST IN: Georgia Gov. Kemp is calling for a signature audit after CCTV footage of hidden ballots being secretly counted was leaked pic.twitter.com/aVsFx1AlZ4

— VINnews (@VINNews) December 4, 2020
Will Georgia Sens. David Perdue and Kelly Loeffler – Rinos who both face election runoffs in January, yet have taken heat for being dead silent on election fraud – finally speak up?
Kemp's comments come hours after a Thursday morning bombshell, in which an attorney working with the Trump campaign presented CCTV footage of Georgia poll workers waiting for observers and news outlets to leave State Farm Arena in Atlanta after calling an end to counting for the night, before pulling out several large suitcases containing ballots from under a table.
The footage comes days after Georgia's head of elections, Gabriel Sterling, said there was no evidence of fraud in the state recount and encouraged President Trump to accept the results of the election – comments echoed by GA Secretary of State Ben Raffensperger (who Trump called an 'enemy of the people' earlier this week) – and said that Trump "obviously lost."
"It. Has. All. Gone. Too. Far," says @GabrielSterling with Georgia Sec of State after a Dominion tech's life was threatened with a noose. "Mr. President, you have not condemned these actions or this language….all of you who have not said a damn word are complicit in this." pic.twitter.com/OnHaxgpJx6

— Brendan Keefe (@BrendanKeefe) December 1, 2020
Meanwhile, attorney Sidney Powell has accused Georgia poll workers of using Dominion Voting Systems machines to 'illegally and fraudulently manipulate the vote count to make certain the election of Joe Biden as president of the United States.'
"Old-fashioned ballot-stuffing" has been "amplified and rendered virtually invisible by computer software created and run by domestic and foreign actors for that very purpose," the suit continues, adding that "Mathematical and statistical anomalies rising to the level of impossibilities, as shown by affidavits of multiple witnesses, documentation, and expert testimony evince this scheme across the state of Georgia."
What exactly has gone too far Gabe?


Via Zero Hedge