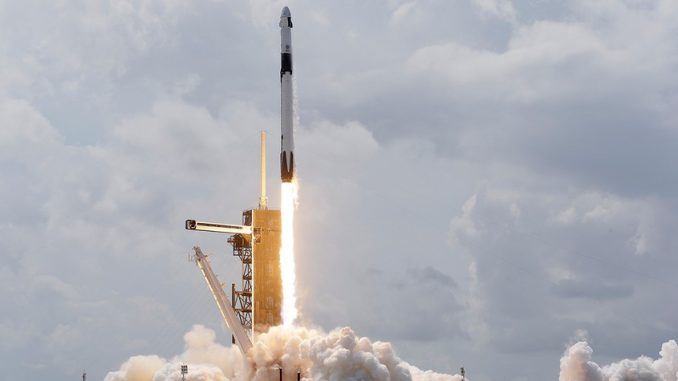 Oops. The Coast Guard is investigating a Royal Caribbean cruise ship's incursion into the exclusion zone along a Falcon 9 rocket's flight path on Sunday evening. The action resulted in SpaceX scrapping its launch from Cape Canaveral Space Force Station.
Statements from those involved in this kerfuffle are coming out, but, as I write this, no word from Royal Caribbean.
The ship veered into the exclusion zone along a Falcon 9 rocket's flightpath just before the 6:11 p.m. EST launch, forcing SpaceX to stand down from the mission and prepare for a 24-hour turnaround. Harmony of the Seas is the world's third-largest cruise ship at 226,963 gross tons. It has 2,747 staterooms, a passenger capacity of 6,687 and a crew of 2,200.

In a statement issued Monday, U.S. Coast Guard spokesperson David Micallef said: "We can confirm the cruise ship was Harmony of the Seas. The Coast Guard is actively investigating Sunday's cruise ship incursion and postponement of the SpaceX launch."

"Our primary concern is the safety of mariners at sea, and we will continue to work with our federal, state and local port partners to ensure safe and navigable waterways," Micallef added.

Port Canaveral Chief Executive Officer John Murray said: "Port Canaveral fully supports the space industry in our region. This, unfortunately, was an isolated incident that happened outside of our control. The Coast Guard is conducting a full investigation, and we look forward to continuing to work with them and our space partners to ensure the continued success of this important enterprise."
They waited as long as they could but launch engineers had to scrap the launch when it ran out of its time window. This was the fourth delay of the mission, previously scrubbed because of inclement weather. The launch path was toward the southeast. The corridor was not used from 1960 to 2020 when new technologies allowed SpaceX to conduct north-to-south polar launches from Florida. The launches fly almost parallel to the coast. This means that pilots and mariners have to be on the lookout for exclusion zones. Hazard areas are issued before every mission.
Space Launch Delta 45 warned pilots and mariners early in January that January would be a busy month with five polar launches possible. The launch that was scheduled for Sunday was the fourth of those.
"The 2022 launch pace is going to be exceptionally busy, with up to five polar, and seven total launches, projected for the month of January alone," Space Force Maj. Jonathan Szul said in a statement. "Due to the unique southerly trajectories, there will be a larger potential impact to air and sea traffic along the southeast coast of Florida."

"We ask that all pilots and mariners double-check their Notices to Airmen (NOTAM) and Notices to Mariners (NOTMAR) to ensure they are fully aware of all pending launch activities in this historic month on the Space Coast," Szul said.
Sunday's scrub pushed the launch of another Falcon 9 rocket at Kennedy Space Center's pad 39A, slated for Monday. That launch was for the company's 37th batch of Starlink internet satellites. Harmony of the Seas and five other cruise ships sailed out of Port Canaveral on Monday afternoon and early evening. None violated the exclusion zone and the SpaceX launch proceeded. I suppose we can chalk the launch scrub up to stuff happens when humans are involved but it isn't good publicity for an industry trying mightily to return from the more than a year lost to the pandemic.
Liftoff! pic.twitter.com/aJG87rLr0U

— SpaceX (@SpaceX) January 31, 2022
As it turns out, the scrubbed launch may have set up Elon Musk and his company for a record-setting 48 hours. SpaceX launched an Italian surveillance satellite to orbit Monday and now it has two launches scheduled for Wednesday. It will be launching from both coasts about an hour and a half of each other.
Monday's mission launched from Cape Canaveral Space Force Station carrying a COSMO-SkyMed Second Generation satellite for the Italian Space Agency. Next, Elon Musk's company will loft a spy satellite from California's Vandenberg Space Force Base for the National Reconnaissance Office Wednesday at 12:18 p.m. PT (3:18 p.m. ET). Then, a Starlink launch will takeoff from Kennedy Space Center in Florida just 93 minutes later.

The Starlink launch has also been pushed back a few times and was set to happen Monday, but Sunday's scrub appeared to have postponed it again to Tuesday. On Tuesday morning it became clear it had been pushed back one more time, to Wednesday. Further delays are always possible, so this launch itinerary could be reshuffled yet again.
Fourth launch and landing of Falcon 9 this year pic.twitter.com/qTx1C3I53F

— SpaceX (@SpaceX) February 1, 2022
So, the one launch scrub may end up having a silver lining for the record books.
If the company does manage three launches in under 48 hours, it will set a new record for the shortest period of time for a single launch provider to do so.

Monday's mission was the fourth of 2022 for SpaceX. The next two flights will be livestreamed starting about 10 minutes before launch.
No one is holding back Elon Musk for long, that's clear with his SpaceX program. Kudos to his success.
Via      Hot Air