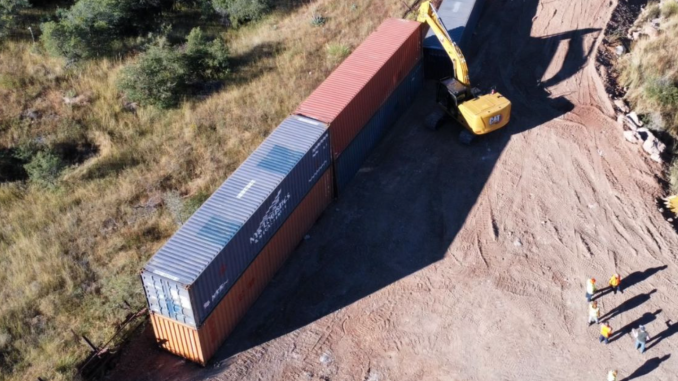 One of the constitutional responsibilities of the federal government is the protect the nation, including its borders.
It isn't. When Joe Biden took office he canceled virtually all of the border protection plans set up by President Trump, including a border wall.
That means, with an unfinished wall, there are sections through which illegal aliens can simply walk into the U.S., and millions have.
But just because the federal government isn't taking care of that problem, it doesn't mean it will allow anyone else to address it.
A National Review report explains the U.S. Justice Department has sued Arizona and Gov. Doug Ducey to stop that state's plan to create a temporary border wall using double-stacked metal shipping containers.
The "government argues the makeshift wall is illegal, dangerous, and interferes with federal duties," the report said.
Biden's DOJ wants a judge to order the barrier removed – which will allow illegal aliens easier access.
The case, in federal court in Arizona, claims the state's actions are "unlawful trespasses" on federal property and the DOJ is demanding the removal of the barriers.
The AP has reported the work on the wall of stacked containers had been paused recently because of protests from environmental activists and others.
Ducey and the state sued federal officials this fall, arguing the state holds jurisdiction over a 60-foot-wide strip of land along the state's remote border with Mexico.
And he says the Constitution provides Arizona residents with a right to be protected from "imminent danger of criminal and humanitarian crises."
Ducey charged that Biden "refuses" to do what he should, so the state will "secure the border in any way we can."
The DOJ's claims include that the state's barricade prevents federal law enforcement officers from "accessing the border area" and puts federal officers "in danger."
Gov.-elect Katie Hobbs, a Democrat, has suggested the containers instead be used for housing.
The state spent bout $6 million and took 11 days to put up 130 containers near Yuma to block of about two-thirds of a mile of border.
Another 3,000 containers are planned to be used to lock down about 10 miles of border in Cochise County, the report said, at a cost estimated at $95 million.
Via Wnd