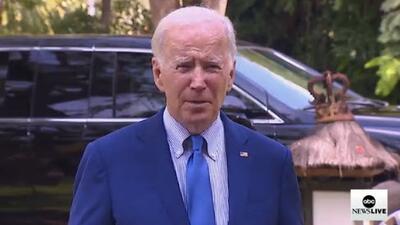 So much for Russia almost starting World War 3 (even if under the guise of a false flag). As we noted earlier (see below), even pro-Ukraine accounts noted that the S-300 SAM that fell in Poland was a Ukrainian one. And while Biden will never admit that Ukraine nearly started war with Poland (as much as the deep state via its AP connections or the Ukraine president would have wanted Russia to get the blame), moments ago Biden explicitly said that based on preliminary information, it is "unlikely" that the rocket strike in Poland originated in Russia. Oops.
"There is plenty of information to contest that. I don't want to say until we completely investigate. It's unlikely in the minds of [sic] the trajectory that it was fired from Russia. But we'll see."
So if it was not fired by Russia, where was it fired from?
Ukrainian military telegram admits that the deadly explosion in Poland was caused by a Ukrainian anti-missile defense S-300P to protect their country against Russian missile barrages. https://t.co/1qLFCMhIaV

— Jackson Hinkle 🇺🇸 (@jacksonhinklle) November 15, 2022
Here are the highlights from Biden's briefing:
Says he briefed NATO, G7 members on his talks with Poland
Leaders have agreed to support investing to figure out exactly what happened
Leaders will then determine next steps after finding out what ahppened
Russia continues to escalate its attacks in Ukraine
There is preliminary information that contests whether Poland incident was due to a missile fired from Russia
Based on the trajectory its unlikely the missile was fired from Russia
Guess that "conspiracy theory" was actually fact…
And with that Ukraine, and its western sponsors, will be busy for the next few hours de-escalating and memory-holing events from today which nearly sparked NATO to trigger Article 5 and launch a nuclear war against Russia.
* * *
Update(1920ET): Polish President Andrzej Duda is seeking to calm the public, and has issued a statement saying there's as yet no definite evidence of who fired missile that fell in Poland. But he did say that a state of heightened readiness has been introduced for all Polish services, including the police, firefighters, border guards, according to breaking international reports.
Duda further said the military is increasing the monitoring of national airspace as investigators are still working to establish the causes of the explosion. He urged all Poles to remain. He added that "there are no indications that today's incident would be repeated."
Earlier Warsaw announced a "Russia made" missile landed on the border village of Przewodów, and Poland's Foreign Ministry said it has summoned the Russian ambassador for a meeting. However, it should be noted that Ukraine's anti-air defense arsenal has always been "Russia made" – especially its S-300 systems. Poland's statement is interesting in that it did not say "Russia launched" missile, leaving the question of the missile's origins open.
All of the above points in the direction that this was actually a projectile fired by Ukraine, as some of our coverage below suggested.
President Biden sent a condolence message for the two lives lost to Poland's Duda…
* * *
Update(1715ET): Despite the alarmist talk all afternoon that NATO could invoke the Article 5 collective defense treaty over the alleged Russian rocket attack on a border town, the result of the Polish government national security emergency meeting is going in the opposite direction, and it seems there won't be escalation today.
Polish govt spokesman Piotr Mueller said Poland has agreed to "increase its military readiness" – though crucially still admitted "It was not clear what caused the explosion in the southeastern town of Hrubieszów." Russia has vehemently denied it was behind the explosions which killed two people. So instead of Article 5, Warsaw is merely talking the much lesser known Article 4. Article 4 requires "consultations" when a NATO member is threatened.
NATO AMASSADORS TO MEET ON WEDNESDAY AT REQUEST OF POLAND ON BASIS OF ALLIANCE'S ARTICLE 4 – TWO EUROPEAN DIPLOMATS SAY
"A moment ago it was decided to increase the readiness of some military units in Poland and other uniformed services," Mueller told reporters in a press briefing. Across Ukraine and as far west as Lviv, Russian airstrikes pummeled Ukraine's energy infrastructure on Tuesday. The Hill reports after a terrifying day for Ukraine, "Russia's widespread missile attack on Ukraine – firing what Zelensky said was 90 missiles – was aimed primarily at the country's electrical infrastructure following an embarrassing Kremlin retreat from the key Ukrainian city of Kherson."
It is entirely possible that amid this large barrage of rockets, which also triggered Ukraine's anti-air defense measures, an errant projectile strayed into NATO member Poland's territory. Polish Senate Advisor Marcin Zaborowski said late in the day that if indeed it was accidental, Moscow should immediately apologize. So far the Kremlin has denounced the reports as a "deliberate provocation" – suggesting that Ukraine's backers are seeking to draw NATO into escalation.
NATO Article 4 involves the following:
All NATO decisions are made by consensus, after discussion and consultation among member countries. Consultation between member states is therefore at the heart of NATO since Allies are able to exchange views and information, and discuss issues prior to reaching agreement and taking action.
As for the Ukrainian government reaction, it was somewhat predictable, with President Zelensky calling it a "really significant escalation" in the war while demanding "action" from the West.
"Hitting NATO territory with missiles… This is a Russian missile attack on collective security! This is a really significant escalation. Action is needed," Zelensky said his Tuesday night video address. He said it is "only a matter of time before Russian terror goes further."
Unconfirmed video purporting to show the strike aftermath on the Polish side of the border was aired on a Polish TV station:
Meanwhile, a highly respected weapons tracker social media account that's generally seen as sympathetic to the Ukrainian side has broken ranks, suggesting what landed on the Polish town was a Ukrainian anti-air missile…
With the narrative quickly changing, and available photographic evidence from the impact site now coming under broader scrutiny, Ukraine officials are in damage control…
* * *
Update(1500ET): Russia has issued its first statements in the wake of conflicting reporting concerning the suspected missile attack on Polish territory, just across the border with Ukraine. Russia is calling the reports a "deliberate provocation" and is denying that its forces have aimed any missiles near the Ukraine-Poland border, per Interfax news.
The Russian Defense Ministry issued a statement saying it has not taken part in "strikes against targets near the Ukrainian-Polish border" using "Russian weapons" – as is being alleged by Polish sources. The Russian statement further said it's Warsaw's attempt to escalate the situation. The Pentagon has meanwhile said it can't corroborate the reports at this early stage but is gathering more information. A Pentagon spokesman vowed the US stands ready to "defend every inch of NATO territory."
According to Polish radio broadcaster Radio Zet, local reports have said what hit Przewowo is most likely the remains of a rocket shot down by Ukraine's armed forces. But there are conflicting and many unconfirmed claims still circulating. The US State Dept. said, "We are working with the Polish government to collect information and assess what happened." It also called the reports "incredibly concerning."
Below is the full Russian statement in response:
Russia's defence ministry has denied reports that Russian missiles hit Polish territory, describing them as "a deliberate provocation aimed at escalating the situation".

"No strikes on targets near the Ukrainian-Polish state border were made by Russian means of destruction," it said in a statement.

Wreckage reportedly found at the scene "has nothing to do with Russian weapons", it added.
Meanwhile "Article 5" is trending on Twitter.
* * *
Are we about to test Art Cashin's thesis that you should never bet on the end of the world (i.e. sell stocks as the ICBMs start flying). As a reminder:
Art Cashin, the dean of the NYSE floor, told a story on Tuesday at Barry Ritholtz's Big Picture conference in midtown that illustrated this point perfectly. It was in the days before the Cuban missile crisis. Mr. Cashin was a young trader. One day a rumor mushroomed that the Russians had launched their missiles. World War III was starting. Mr. Cashin ran across the street to find the best trader he knew – who was in a bar having a drink. Mr. Cashin ran in breathlessly, hardly able to talk.

"Stop," the trader said. "Have a drink. Explain everything." After hearing all the information, the trader had one order: "Buy. Don't sell. Buy."

"Why?" Mr. Cashin wondered.

"Because if you're wrong, the trade'll never clear. We'll all be dead."
Well, moments ago futures ignored the venerable market strategist's words and tumbled after a report from Polish Radio ZET according to which two stray rockets fell in the town of Przewodów on the border of NATO-member Poland with Ukraine (while unreported, the prevailing assumption is that the rockets are Russian).
The Associated Press is also confirming, citing a senior US intelligence official who says two people were killed by the missiles. However, the Pentagon followed by saying it cannot corroborate the reports at this time. Stocks quickly reversed higher on the headline.
And Polish sources are reporting – albeit emphasizing the report is still unofficial – that Polish military planes have been scrambled out of the airport near Tomaszów Lubelski. "The Polish Air Force took fighter jets into the air from the Tomaszow-Lubelski airfield in the Lublin Voivodeship," the local reports say.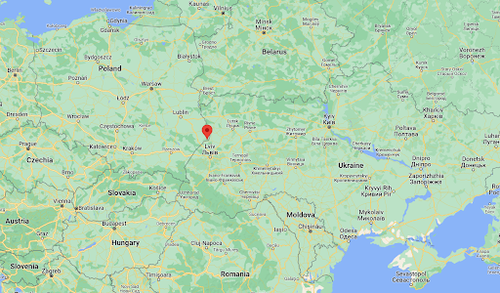 The rockets reportedly hit the grain dryers, leading to two casualties. The police, the prosecutor's office and the army are on site.
And as Bloomberg also confirms, Polish Prime Minister Morawiecki has convened an urgent meeting of the Committee of the Council of Ministers for National Security. Hungarian PM Viktor Orban has also reportedly convened a national defense council meeting.
Estonia has meanwhile issued a statement saying it is "ready to defend every inch of NATO territory, We're in full solidarity with our close ally Poland," according to its ministry of foreign affairs.
The news has sent futures tumbling.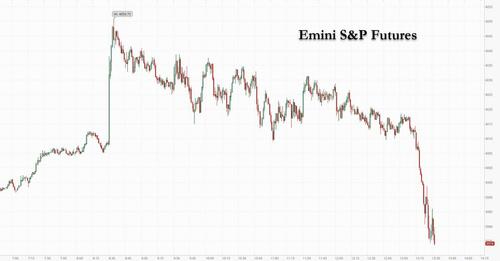 And further on the news:
US DEFENSE STOCKS JUMP TO SESSION HIGHS; NORTHROP UP 5%
It will be amusing when reputable news sources deny the whole thing but for now, stocks are dumping and are red on the day after soaring more than 2% earlier.
Hours earlier in the day Ukrainian authorities were reporting a series of fresh missile attack on the capital, and rare airstrikes in Western regions as well, including the city of Lviv.
This resulted in new emergency power outages across various cities effected.
Meanwhile, NATO's collective defense article is trending on Twitter, which is never a good sign…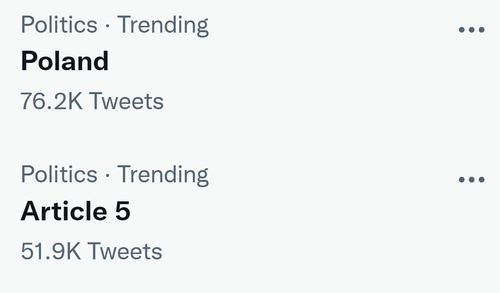 Via Zero Hedge