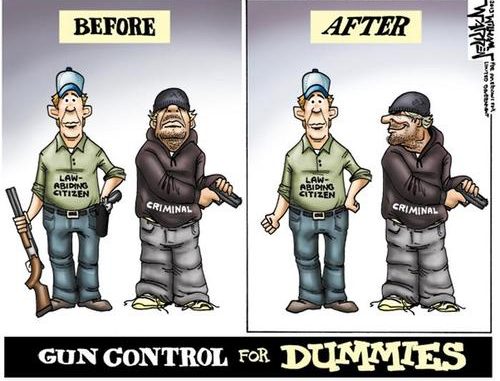 Joe Biden promised to do it and he has finally delivered. Today, the cognitively declining President of the United States signed a number of Executive Orders allegedly designed to "curb gun violence" but actually designed to destroy the Second Amendment and the Bill of Rights.
In the process, as Robert Wheeler writes at The Organic Prepper, Biden has turned many Americans into felons with a stroke of his pen.
Details are still emerging as to just what the Executive Orders will mean for gun rights but we are aware of some of the ramifications.
Biden has signed 6 Executive Orders related to guns:
1.) Tightening regulations on "ghost guns." 
Ghost guns are of course the labels liberals use to describe homemade firearms (because "we will win by slogans") that are generally put together from parts assembled and drilled with machine tools. As a result, they often do not have serial numbers so it is harder for the government to be able to trace them. It is legal to build a gun in a home or workshop and there is no federal requirement for a background check. But Biden aims to stop this, saying his administration will "rein in the proliferation of so-called 'ghost guns.'"
"These are guns that are homemade. Built from a kit that include directions on how to finish the firearm. You can go buy the kit. They have no serial numbers. So, when they show up at a crime scene they can't be traced. And the buyers aren't required to pass the background check to buy the kit. To make the gun. Consequently, anyone from a criminal to a terrorist can buy this kit for as little as 30 minutes, put together a weapon," Biden explained.
Biden wants these guns treated as firearms under the Gun Control Act. He argues that, under the act, key parts of gun-making kits would be required to have numbers for traceability and would also require background checks for people purchasing the kits.
The White House stated:
We are experiencing a growing problem: criminals are buying kits containing nearly all of the components and directions for finishing a firearm within as little as 30 minutes and using these firearms to commit crimes. When these firearms turn up at crime scenes, they often cannot be traced by law enforcement due to the lack of a serial number. The Justice Department will issue a proposed rule to help stop the proliferation of these firearms.
2.) Measure the "problem of gun violence" in a "data driven way." 
The Justice Department will issue an annual report on firearms trafficking. According to the official White House statement:
In 2000, the Bureau of Alcohol, Tobacco, and Firearms (ATF) issued a report summarizing information regarding its investigations into firearms trafficking, which is one way firearms are diverted into the illegal market where they can easily end up in the hands of dangerous individuals. Since the report's publication, states, local, and federal policymakers have relied on its data to better thwart the common channels of firearms trafficking. But there is good reason to believe that firearms trafficking channels have changed since 2000, for example due to the emergence of online sales and proliferation of "ghost guns." The Justice Department will issue a new, comprehensive report on firearms trafficking and annual updates necessary to give policymakers the information they need to help address firearms trafficking today.
3.) The Justice Department, within 60 days, will issue a proposed rule to make clear when a device marketed as a stabilizing brace effectively turns a pistol into a short-barreled rifle subject to the requirements of the National Firearms Act.  
"The alleged shooter in the Boulder tragedy last month appears to have used a pistol with an arm brace, which can make a firearm more stable and accurate while still being concealable," the White House says.
4.) The Justice Department, within 60 days, will publish model "red flag" legislation for states.
From the White House:
Red flag laws allow family members or law enforcement to petition for a court order temporarily barring people in crisis from accessing firearms if they present a danger to themselves or others. The President urges Congress to pass an appropriate national "red flag" law, as well as legislation incentivizing states to pass "red flag" laws of their own. In the interim, the Justice Department's published model legislation will make it easier for states that want to adopt red flag laws to do so.
5.) The Administration is investing in evidence-based community violence interventions.
Community violence interventions are proven strategies for reducing gun violence in urban communities through tools other than incarceration. Because cities across the country are experiencing a historic spike in homicides, the Biden-Harris Administration is taking a number of steps to prioritize investment in community violence interventions.
The American Jobs Plan proposes a $5 billion investment over eight years to support community violence intervention programs. A key part of community violence intervention strategies is to help connect individuals to job training and job opportunities.
The U.S. Department of Health and Human Services is organizing a webinar and toolkit to educate states on how they can use Medicaid to reimburse certain community violence intervention programs, like Hospital-Based Violence Interventions.
Five federal agencies are making changes to 26 different programs to direct vital support to community violence intervention programs as quickly as possible. These changes mean we can start increasing investments in community violence interventions as we wait on Congress to appropriate additional funds
6.) The President will nominate David Chipman to serve as Director of the Bureau of Alcohol, Tobacco, and Firearms.
According to the White House:
ATF is the key agency enforcing our gun laws, and it needs a confirmed director in order to do the job to the best of its ability. But ATF has not had a confirmed director since 2015. Chipman served at ATF for 25 years and now works to advance commonsense gun safety laws.
It should be noted that Chipman served an important role in the coverup of the Oklahoma City Bombing and the First World Trade Center bombing and is now serving an even more important role in the war against American citizens.
As Ben Unruh reports, Second Amendment Foundation founder and Executive Vice President Alan M. Gottlieb said:
"Nobody from the Biden administration has reached out to us or any other rights organization to my knowledge, which certainly clarifies Biden's approach to firearms regulation," adding that "he came into office talking about unity, but he just declared war on tens of millions of law-abiding gun owners who have committed no crimes."
Sen. Tom Cotton (R-Ark.) summed things up succinctly in a social media statement.
"President Biden wants to let violent criminals go free but take guns from law-abiding citizens,"
As The Epoch Times' Zachary Stieber detailed earlier, President Joe Biden's administration is taking action to stop the proliferation of so-called ghost guns and push states to adopt "red flag" legislation.
"Enough, enough, enough," Biden, a Democrat, said in a Rose Garden event before announcing the orders.
He also claimed that the orders he'll sign won't impact Americans' rights to own guns under the Second Amendment.
Pres. Biden: "Whether Congress acts or not, I'm going to use all the resources at my disposal as president to keep the American people safe from gun violence." pic.twitter.com/82PafLsLvm

— CBS News (@CBSNews) April 8, 2021
Biden is directing the Department of Justice to, within 30 days, issue a proposed rule aimed at curbing the spread of so-called ghost guns, or guns that are made from build-it-yourself kits.
The department will also in the next two months issue a proposed rule declaring a stabilizing brace that turns a pistol into a short-barreled rifle and publish model "red flag" legislation for states.
Red flag laws let family members or law enforcement ask a court to bar people from owning guns if the people allegedly present a danger to themselves or others.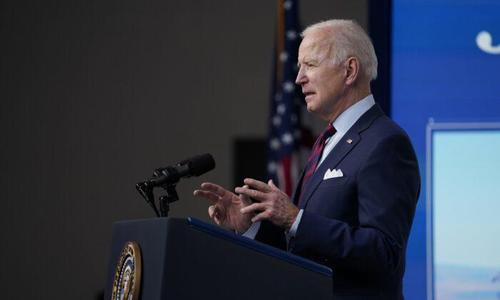 Three other actions announced by the administration are:
investment in "community violence interventions" that is meant to curb the spike in murders and shootings seen last year;
starting the issuance of an annual report on firearms trafficking;
and the nomination of David Chipman, a former adviser to the gun control advocacy group Everytown for Gun Safety and a current adviser at Giffords, an organization that says it works to stop gun violence, as the director of the Bureau of Alcohol, Tobacco, and Firearms (ATF). The ATF is a federal agency that aims to prevent the illegal use and trafficking of firearms, among other efforts.
The new announcements mark the first wave of executive action on guns that the White House had vowed to take following recent mass shootings in Boulder, Colorado, and Atlanta, Georgia.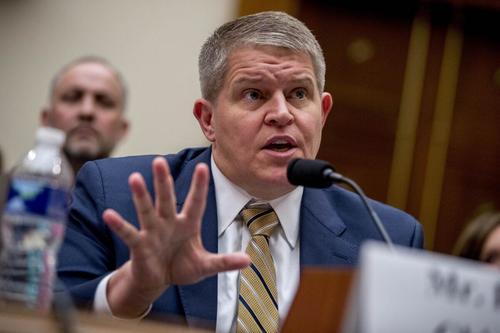 Giffords Law Center Senior Policy Advisor David Chipman speaks at a House Judiciary Committee hearing on assault weapons on Capitol Hill in Washington on Sept. 25, 2019. (Andrew Harnik/AP Photo)
Biden is still urging Congress to pass legislation to reduce gun violence, the administration said, but he and other officials "will not wait for Congress to act to take its own steps—fully within the Administration's authority and the Second Amendment—to save lives."
Pres. Biden: "They've offered plenty of thoughts and prayers, members of Congress. But they've passed not a single new federal law to reduce gun violence. Enough prayers. Time for some action."https://t.co/bHYNauMmJP pic.twitter.com/ErgRx6aFqP

— CBS News (@CBSNews) April 8, 2021
Biden told a press conference after the Boulder shooting last month that Congress should ban so-called assault weapons and high-capacity magazines, referring to a bill he helped pass as a senator in 1994 that did just that for 10 years.
A Department of Justice-funded study found the results of that ban, which expired in 2004, "mixed." A RAND Corporation review of gun restriction policies said there is "inconclusive evidence for the effect of assault weapon bans on mass shootings."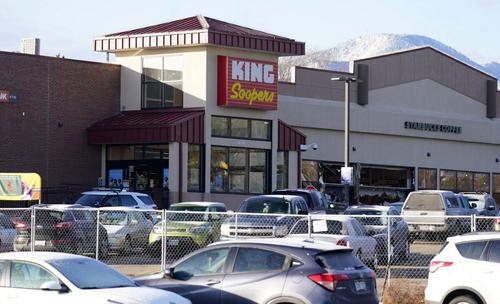 A makeshift fence stands around the parking lot outside a King Soopers grocery store where a mass shooting took place a day earlier in Boulder, Colo., on March 23, 2021. (David Zalubowski/AP Photo)
Democrats quickly praised the Biden administration's actions on guns, including the planned nomination of Chipman.
"This is the most significant executive action on gun violence in a generation. These actions set a model of courage & strength that Congress must now match," Sen. Richard Blumenthal (D-Conn.) said in a tweet.

"The action on ghost guns will protect against untraceable, homemade weapons that no law abiding gun owner would want," he added.
Everytown for Gun Safety and its grassroots networks, Moms Demand Action and Students Demand Action, also cheered the actions.
"Each of these executive actions will start to address the epidemic of gun violence that has raged throughout the pandemic, and begin to make good on President Biden's promise to be the strongest gun safety president in history," Everytown President John Feinblatt said in a statement.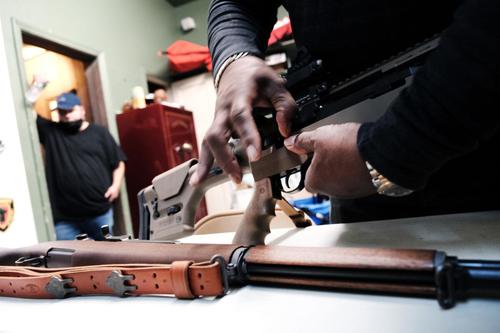 Lateif Dickerson handles some of his rifles at his gun instruction headquarters in Jersey City, N.J., on March 25, 2021. (Spencer Platt/Getty Images)
Biden has struggled to find traction for gun restriction proposals in Congress, especially in the 50–50 Senate, where Democrats maintain a slim majority only by virtue of Vice President Kamala Harris's tiebreaking vote.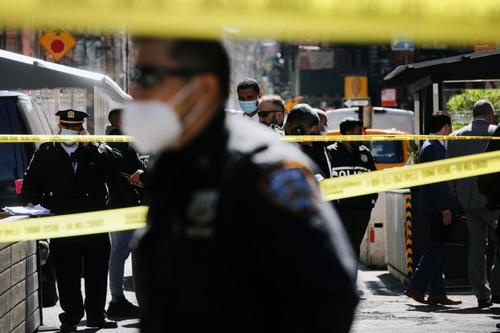 Police gather at the scene of an afternoon shooting along Ludlow Street in the lower Manhattan neighborhood of New York City, amid a continued rise in shootings in the city, on March 30, 2021. (Spencer Platt/Getty Images)
During the pandemic, gun sales have soared to record-highs as Americans sought to protect themselves against rising crime and dramatically altered conditions.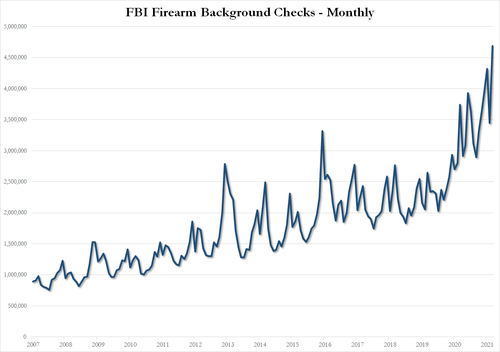 Christopher Herrmann, an assistant professor at the City University of New York's John Jay College of Criminal Justice, told The Epoch Times last month that some new laws or regulations, such as red flag laws, could help decrease the number of shootings and murders in the future.
But Lisa Dadio, director of The Center for Advanced Policing at the University of New Haven, said those would not help because most people committing the crimes are not getting their guns legally.
Joe Biden is either lying, never bought a gun at a gun show, or both https://t.co/snfzL4irc8

— Mark Meadows (@MarkMeadows) April 8, 2021
Republicans and groups who say they fight to protect Second Amendment rights said they opposed what the Biden administration is doing.
"President Biden wants to let violent criminals go free but take guns from law-abiding citizens," Sen. Tom Cotton (R-Ark.) said in a social media statement.
Gun Owners of America Senior Vice President Erich Pratt said the group "is wholeheartedly opposed to the unconstitutional gun control threatened today by President Biden—restrictions such as the attacks on homemade and brace equipped firearms and so-called 'Red Flag' Gun Confiscation Orders."
"Joe Biden knows he cannot beat gun owners in Congress. Instead, he's circumventing the legislative process to impose his own tyrannical vision by executive fiat," he added.
The federal government will face trouble enforcing rules deemed inconsistent with laws in Arizona. Gov. Doug Ducey, a Republican, this week signed a bill that prohibits law enforcement from enforcing any laws or rules from the U.S. government "that is inconsistent with any Arizona law regarding the regulation of firearms."、
Via Zero Hedge