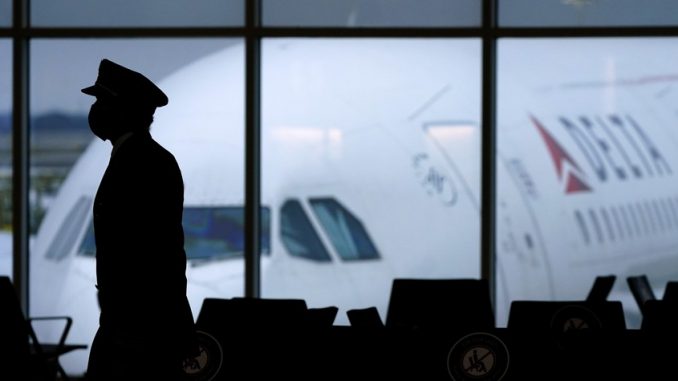 As Joe and Jill Biden took a walk through the neighborhood where their vacation home is located at Rehoboth Beach, Delaware yesterday. During the walk, they were accompanied by members of the press, along with Secret Service protection. During that time, Biden was asked about issuing a mandate for domestic air travelers to be vaccinated before flying. He said he would do so if his medical team recommends that. This is the latest bit of confusion that the bumbling president has added to COVID-19 confusion chaos.
It's no wonder there is so much confusion and uncertainty over COVID-19 mandates. Joe and Jill took their new puppy Commander for a walk on the beach last night. They were filmed wearing masks though the beach was deserted and the Secret Service agents were 10 feet away. Let that insanity sink in. Both of the Bidens are vaccinated and boosted. Eventually, Jill took off her face mask but Biden left his mask on. That is the ultimate in mask theatre. Even Fauci admits he only wears a mask now to not give "mixed signals".
It was while speaking to the press that Biden declared that he would impose a domestic vaccine travel requirement 'when I get a recommendation from the medical team.' The surge in Covid cases from the Omicron variant has made the White House reassess whether to impose it.

The President's mask-wearing parade came just hours after Dr Anthony Fauci admitted there was an 'extremely low' risk of contracting Covid indoors after getting fully vaccinated, saying that he only continued to wear a mask to stop 'giving mixed signals.'

Last week, the CDC updated its guidance to say that Americans who are fully vaccinated can safely go maskless indoors, or outdoors, with the exception of crowded indoor settings like planes.
Ironic, coming from Fauci, that he doesn't want to give mixed signals. That's been happening from the very beginning of the pandemic. If you remember, Fauci was against masks before he was for them and now he's ok without them again. Mixed signals have been the default position from Fauci and the CDC, along with the Biden administration from the start. During a Sunday morning interview, Fauci once again contradicted himself. He said he'd support a mandate for requiring domestic air travelers to be vaccinated. Then he backtracked and said he'd only agree to that if it is what it takes to get people vaccinated.
Biden last month said he would wait for the scientific community to give him a recommendation when asked if consideration has been given to domestic flights requiring tests or vaccines.

Biden's chief medical adviser Anthony Fauci on Monday cleaned up his previous remarks on a mandate after he said on Sunday that "anything that could get people more vaccinated would be welcome" when asked about for his thoughts on a domestic travel mandate.

"Everything that comes up as a possibility, we put it on the able and we consider it, that does not mean that it is likely to happen," Fauci told CNN's Jim Acosta on Monday.

"I doubt if we're going to see something like that in the reasonably foreseeable future," he added.
Who knows if Joe's gotten that message? He's still wearing a face mask on a deserted beach. Last month, Democrats called for a vaccination mandate for domestic air travelers.
The Bidens are taking the week off and spending time at the beach. Biden essentially threw up his hands and said he's tossing the management of the pandemic and testing to the states, where it should have been all along. He checked out without further elaboration and went to his vacation home Monday. There has been a lack of testing since the beginning of the pandemic.
As for the COVID-19 mandates and the travel industry, airline CEOs have come forward to ask for revisions as the pandemic enters an endemic stage and the Omicron variant produces a mild case of the virus. They testified in a three-hour hearing with the Senate Commerce, Science and Transportation Committee earlier this month. The CEOs of American and Southwest asked for a halt to the mask mandate on planes. Last week, Delta CEO Ed Bastian asked the CDC to scale back quarantine time with breakthrough cases of the Omicron variant. These are business decisions made by the airlines. Experts have admitted that simple cloth masks that most people wear don't offer protection. The 10-day quarantine mandate is causing worker shortages as the Omicron variant rages across the country.
The vaccine mandate for employers and their employees has caused worker shortages. The travel industry is being hard hit by both vaccine mandates for employees and by the rapid spread of the Omicron variant. Canceled flights and delays have escalated during the holiday travel period this year. Most of the major airlines have worked with their employees and avoided losing pilots and flight attendants due to a no-jab no-job mentality. One exception is United Airlines. Not only has CEO Scott Kirby decided to not allow most requests for exemptions, either medical or religious, but the airline has placed more than 2,000 employees on unpaid, indefinite leave for declining the vaccination, according to Airline Employees 4 Health Freedom. Many pilots and airline workers have also been stripped of their health benefits and lost seniority within the company.
350+Pilots, 800+Flight Attendants on unpaid leave because they requested their lawful Civil Rights under Title VII and the ADA. Accommodation is supposed to keep you in the workplace. #jabs4jobs https://t.co/C2RVyTN0Pz

— Airline Employees 4 Health Freedom (@AE4HF) December 29, 2021
A group of airline employees is legally challenging United's decisions on COVID-19 vaccine mandates. Airline Employees 4 Health Freedom is challenging the decision to put employees on unpaid leave and its decision to deny religious exemptions from the mandate.
ICYMI: #jabs4jobs https://t.co/0rKwNXemnQ

— Airline Employees 4 Health Freedom (@AE4HF) December 27, 2021
It's not clear yet how far they will get with their legal challenge. There are many cases in higher courts over COVID-19 mandates. Most of the airlines report that the majority of their employees are vaccinated. If Joe Biden now admits there is no real solution coming from the federal government for the pandemic, shouldn't he lift the mandates he's put in place? If COVID-19 vaccine mandates go to domestic air travel for passengers, what's next? Asking for proof of flu shots? There is a rise in flu cases now. It's also a contagious virus. This is not the federal government's job. The constitutionality of government control over personal medical decisions like a vaccination mandate will likely have to go to the Supreme Court for a final determination. If worker mandates are affecting the bottom lines for airlines now, imagine what vaccine passports will do to domestic air travel.
Via      Hot Air