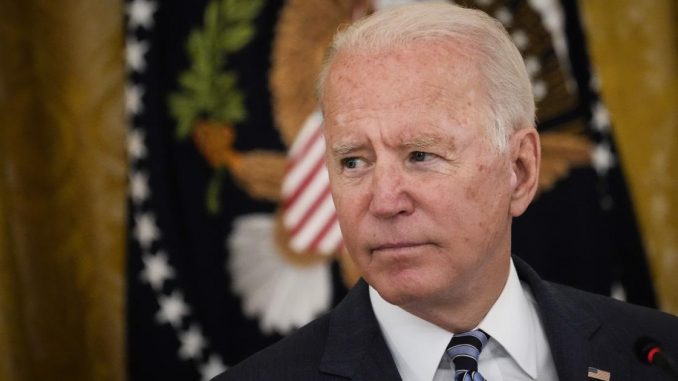 The Biden administration is shifting its resources to a difficult diplomatic mission aimed at facilitating the safe exit of American citizens and Afghan allies after the U.S. ended its 20-year military engagement in Afghanistan on Monday.
Secretary of State Antony Blinken said officials believe that between 100 and 200 Americans seeking to leave the country remain there and were not evacuated on military flights out of Kabul, which came to a halt on Monday evening to meet President Biden's Tuesday deadline for withdrawing U.S. forces.
"We will continue our relentless efforts to help Americans, foreign nationals and Afghans leave Afghanistan if they choose," Blinken said in remarks from the State Department, while acknowledging that officials weren't sure exactly how many Americans remain in Afghanistan.
Biden, who has endured heavy criticism for the chaotic withdrawal from Afghanistan, had pledged earlier this month that he would bring Americans home even if it meant extending the end-of-August deadline.
"Let me be clear: Any American who wants to come home, we will get you home," Biden said in remarks at the White House less than two weeks ago.
In a statement Monday evening, Biden said that his military commanders were united in their recommendation that he stick to the deadline in order to protect U.S. troops and "secure the prospects of civilian departures for those who want to leave Afghanistan in the weeks and months ahead."
"I have asked the Secretary of State to lead the continued coordination with our international partners to ensure safe passage for any Americans, Afghan partners, and foreign nationals who want to leave Afghanistan," Biden said in the statement.
Since the end of July, the U.S. military and coalition forces have evacuated more than 123,000 civilians from Afghanistan as the Taliban gained control of the country quicker than officials anticipated. About 6,000 Americans have been evacuated from or otherwise departed Afghanistan, according to U.S. officials.
Thousands of Afghans who assisted U.S. forces and are Special Immigrant Visa (SIV) applicants have also been evacuated. Blinken did not specify on Monday how many of those individuals remain in Afghanistan but said the U.S. government is committed to helping them leave.
"Our commitment to them has no deadline," he said.
Evacuating remaining Americans and Afghans will be difficult, especially given that the U.S. no longer has a diplomatic presence in Afghanistan.
Biden has had broad support among the public for ending the 20-year war, but the circumstances of the withdrawal as the Taliban overwhelmed the U.S.-backed Afghan government have prompted widespread criticism.
Republicans quickly attacked Biden on Monday over the fact that Americans were left behind when U.S. troops departed. Sen. Ben Sasse (R-Neb.) called the withdrawal a "national disgrace" and accused Biden of "cowardice and incompetence."
"The President made the morally indefensible decision to leave Americans behind. Dishonor was the President's choice. May history never forget this cowardice," Sasse said in a statement.
Three top House Republicans on Monday asked White House national security advisor Jake Sullivan for the plan to repatriate Americans and evacuate others that will be left behind.
"How exactly will the administration assist Americans and our Afghan partners left behind enemy lines without a diplomatic presence on the ground in Kabul after August 31?" the lawmakers wrote in a letter to Sullivan.
The letter was signed by Rep. Michael McCaul (Texas), the top Republican on the House Foreign Affairs Committee; Rep. Devin Nunes (Calif.), the ranking member on the House Intelligence Committee; and Rep. Mike Rogers (Ala.), top Republican on the House Armed Services Committee.
An Afghanistan War veteran, Rep. Brian Mast (R-Fla.), called on Biden to resign over the Americans left behind.
While most Democrats were silent on Monday, some have been critical of the withdrawal from Afghanistan and disapproved of the news that Americans were left behind.
"It is paramount that the United States remain engaged with our international partners to evacuate remaining U.S. citizens and Afghan allies," Sen. Jeanne Shaheen (D-N.H.) said after the last American military plane left Afghanistan.
The U.S. is suspending its diplomatic operations in Kabul and moving those operations to Doha, Qatar, from where officials will conduct diplomacy toward Afghanistan and engage with the Taliban, Blinken said Monday.
The new office will be led by Ian McCarty, the former deputy chief of mission at the U.S. Embassy in Kabul. Meanwhile, former U.S. Ambassador to Afghanistan John Bass will lead the State Department's work to help Americans and Afghans leave Afghanistan.
The international community is seeking to put pressure on the Taliban to allow safe passage of Americans and Afghans who want to leave. The United Nations Security Council adopted a resolution on Monday that calls on the Taliban to allow Americans and Afghans the freedom to leave Afghanistan.
"Last week, the Taliban committed to the safe passage and freedom to travel for Afghans and foreign nationals," U.S. Ambassador to the U.N. Linda Thomas-Greenfield told reporters. "And by adopting this resolution, the Security Council has shown that the world expects the Taliban to live up to these promises — today, tomorrow, and after August 31. This is of the utmost importance to us."
Blinken said Monday that the Taliban can earn legitimacy and support by meeting commitments on freedom of travel, human rights and counterterrorism, among other issues.
He added that the international community will work to reopen Kabul's civilian airport in order to allow for a small number of daily charter flights on which people can leave Afghanistan.
"We have no illusion that any of this will be easy or rapid. This will be an entirely different phase than the evacuation that just concluded," Blinken said, acknowledging the difficulty of the new mission. "It will take time to work through a new set of challenges, but we will stay at it."
Via The Hill