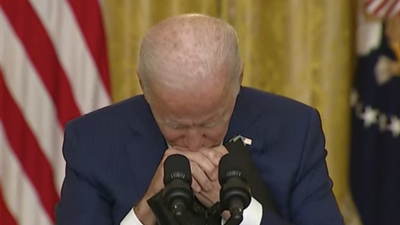 President Biden on Thursday vowed to "hunt down" the terrorists responsible for a spate of deadly bombings at the Kabul airport which left 12 US servicemembers dead and 15 wounded.
"Know this; We will not forgive. We will not forget. We. will hunt you down and make you pay," he said.
In a surreal press conference that included bible quotes, a moment of silence, and blaming President Trump, Biden said he was open to sending US forces back into Afghanistan to assist with the withdrawal.
"Whatever they need, if they need additional force, I will grant it," he said, adding that the US military can target ISIS-K without "large scale military operations."
BIDEN: "To those who carried out this attack, as well as anyone who wishes America harm, know this: we will not forgive. We will not forget. We will hunt you down and make you pay." pic.twitter.com/hVICiOBpN0

— Benny (@bennyjohnson) August 26, 2021
Biden said he was in near 'constant' communication with military commanders via letter, and that he'd asked them to draw up plans to retaliate against the terrorist group (via carrier pigeon?).
Of note, after reading his speech on the teleprompter, Biden said out loud "The first person I was instructed to call upon…" before taking questions.
Trump also said he 'bears responsibility for all that's happened,' before turning around and blaming Trump for the deal he 'inherited.'
He then gave Trump credit for the only reason there was relative peace in Afghanistan until now.
Then, towards the end of the presser, Biden said "I have another meeting, for real" – implying other 'meetings' haven't been?
Watch the full press conference below:
*BIDEN: AMERICA WILL NOT BE INTIMIDATED
*BIDEN SAYS U.S. WILL HUNT DOWN THOSE BEHIND KABUL ATTACKS
*BIDEN: ORDERS PLANS TO ATTACK ISIS LEADERSHIP, FACILITIES
Watch: President Biden speaks following a series of deadly bombings outside of the Kabul airport in Afghanistan, in what the Washington Free Beacon notes is the deadliest day in Afghanistan for US troops in six years.
Summary:
New blasts rock Kabul
ISIS claims responsibility
Third explosion rocks Kabul
At least 11 US Marines, Navy Medic dead; Death toll exceeds 70
New threat reported at North Gate of airport
US officials report multiple US, civilian casualties

Suicide bomb explodes at Kabul airport gate, second explosion reported

 as car bomb
Taliban warned of potential terrorist threat

US State Dept warned Americans to "leave immediately" due to imminent threat
A "very strong" new blast has been reported in Kabul – which the Taliban reports were due to US forces inside the Kabul airport 'destroying their belongings.'
Journalist Saad Mohseni reports that the most recent blast was a controlled detonation by the US military.
Former President Trump has responded in a statement, and sends his 'deepest condolences to the families of our brilliant and brave Service Members…' along with Melania.
 ISIS has officially climaed responsibility for the Kabul bombings, according to NBC News' Evan Kohlmann.
*12 SERVICE MEMBERS KILLED AND 15 WERE INJURED: MCKENZIE
At least eleven Marines and a Navy medic are among the dead following Thursday's deadly blasts outside of the Kabul international airport in Afghanistan, according to Fox News' Edward Lawrence. The death toll exceeds 70 as of this update.
Meanwhile, two new explosions have just been reported per Al Arabiya, bringing the total number to five.
According to ABC News' James Gordon Meek, there is a new threat of a vehicle-borne improvised explosive device (VBIED) at the North Gate of the Kabul airport.
 The Wall Street Journal is reporting that four US Marines are among the dozens killed in Thursday's attack at the Kabul airport.
The U.S. ambassador in Kabul has told staff there that four U.S. Marines were killed in an explosion at the city's airport and three wounded, a U.S. official with knowledge of the briefing said. Two explosions ripped through crowds of Afghans trying to enter the airport on Thursday.

At least three U.S. troops were injured, a U.S. official said. Witnesses reported multiple fatalities among the Afghans, many of whom were trying to enter the airport because they had assisted U.S.-led coalition efforts and feared persecution by the Taliban. -WSJ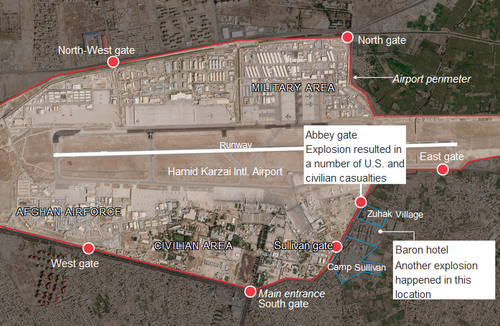 The Pentagon is confirming that 'a number' of US service members were killed and injured.
The US State Department will not be holding a briefing today.
At least 43 have been killed and 130 injured in Thursday's dual blasts near the Kabul airport. According to NYT reporter Fahim Abed, 60% of the wounded are in critical condition.
According to Taliban spokesman Zabihullah Mujahid, 52 people have been wounded in both explosions.
US officials believe 'ISIS-K' was behind the attack.
According to Pentagon Press Secretary John Kirby, there have been multiple US and civilian casualties. Kirby also confirmed the second explosion:
"We can confirm that the explosion at the Abbey Gate was the result of a complex attack that resulted in a number of US & civilian casualties. We can also confirm at least one other explosion at or near the Baron Hotel, a short distance from Abbey Gate. We will continue to update."
We can confirm that the explosion at the Abbey Gate was the result of a complex attack that resulted in a number of US & civilian casualties. We can also confirm at least one other explosion at or near the Baron Hotel, a short distance from Abbey Gate. We will continue to update.

— John Kirby (@PentagonPresSec) August 26, 2021
According to reports, the Kabul ER says they're treating more than 30 people, while six died en route to the hospital.
Reminder:
 According to Politico, ISIS is responsible for the blast outside the Kabul airport, which set off a firefight at Abbey Gate – where some 5,000 Afghans and possibly some Americans sought access to the airport.
An ISIS suicide bomber was responsible for the explosion, a U.S. official and a person familiar with the situation told POLITICO.

The attack occurred just outside Abbey gate, where U.S. personnel until recently welcomed American citizens to board evacuation flights, according to four sources with knowledge of the situation.

The news comes just hours after defense officials began warning about an increased terrorist threat from the Islamic State's branch in Afghanistan. Defense officials briefed lawmakers on Tuesday about the new threat targeting airport gates and military commercial aircraft evacuating people from Kabul, POLITICO first reported.
US officials have described the suicide bombing as a "complex attack."
Graphic:
Fox News is reporting a second explosion in Kabul near the airport, by a hotel where Americans were gathering for rescue operations.
Sky News is reporting the death toll at 13, which includes children.
Bloomberg reports that at least three US troops have been injured, per US officials.
Meanwhile, the UK government has issued a statement, writing "We are working urgently to establish what has happened and its impact on the ongoing evacuation effort."
Meanwhile, the US State Department has issued a warning to Americans not to travel to the airport, "and avoid airport gates at this time."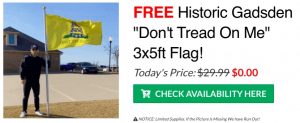 According to reports from Reuters, there have been at least three casualties in the explosion which appears to have happened near Baron Hotel across from Kabul airport (the hotel is largely by Brits). WSJ reporter Dion Nussenbaum adds that Marines have been injured but details remain scant.
And here is ABC News' Martha Raddatz with the painfully obvious:
And the moment of the explosion: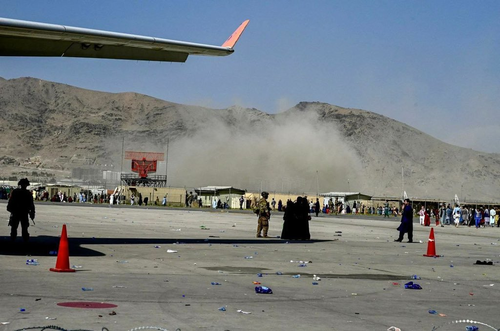 It appears, for once, the intelligence agencies were right (or Taliban warnings that is). The Pentagon has just confirmed…
…that there has been a large explosion at Abbey Gate at the Kabul Airport.
Local reports also note gunfire is being heard around the airport. Some purported images of the aftermath have been shown on social media (not confirmed)…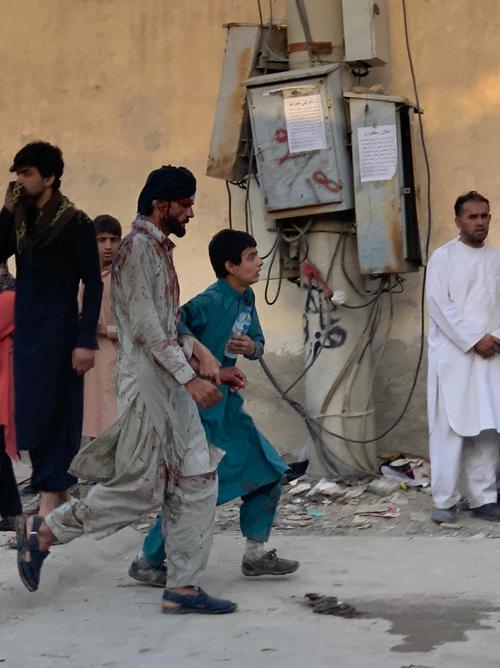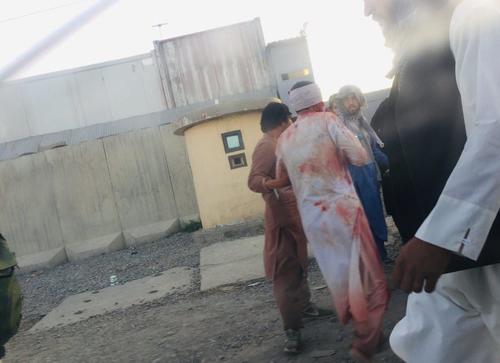 U.S. official tells Reuters that initial report is that the explosion outside Kabul airport was caused by a suicide bombing.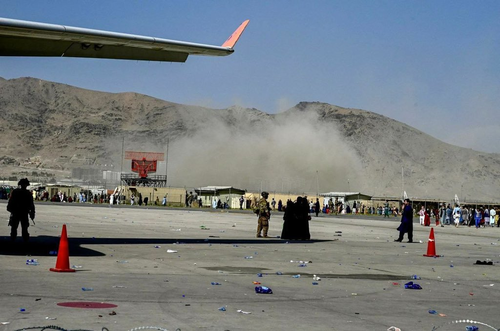 Who could have seen this coming?
Of course, we assume President Biden has a 'contingency plan' for this.
A spokesman for the Taliban has just revealed to the Russian press that the Taliban warned the west about the supposedly "imminent" ISIS threat lurking outside the Kabul airport.
Here's more from RT, the outlet that broke the story.
Zabihullah Mujahid, who holds the office of Information Minister in the Taliban-installed government in Afghanistan, told the Russian media that his organization was the source of the information. The threat was not specific, he said in an interview, but the plan was to provoke chaos and violence at the airport and hurt the Taliban's reputation.

"Over the last 20 years we have learned things and changed," the official said in the interview. "We want to prove that we are not what anti-Taliban propaganda has portrayed us to be. We want to show that to the world."
So, we're just taking the Taliban at their word now? Sounds reasonable enough…
Once again, the US, UK and France are warning that ISIS might carry out an attack – perhaps a suicide bombing – at the Kabul airport to target crowds of departing westerners, and have thus halted evacuations once again on Thursday. This is particularly troubling news for more than 1,000 Americans who have yet to be evacuated, as well as the thousands of Afghans with special immigrant visas who will likely be left behind to face the wrath of the Taliban.
According to the NYT, several European nations announced on Thursday that they planned to halt their evacuations from Kabul airport following reports of the ISIS threat, despite the looming Aug. 31 deadline (which the Taliban have insisted must be met or the west will face "consequences). President Biden has reportedly been briefed on the matter.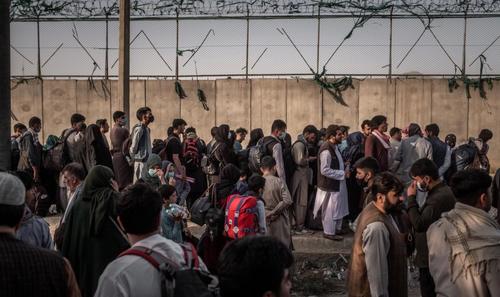 Belgium, the Netherlands and Denmark all said they would no longer be able to facilitate airlifts from the Hamid Karzai International Airport, which continues to be surrounded by crowds of thousands of desperate Afghans (and foreigners) struggling to get through. The US embassy warned Americans on Wednesday to "leave immediately," and stay away from the airport.
The UK and Australia issued similar warnings, with Australians describing an "ongoing and very high threat of terrorist attack".
The warnings came as the last of the estimated 1.5K Americans and countless other foreigners still in Afghanistan scramble to board the last flights out of the country before the US withdrawal is officially complete on Aug. 31. Thousands of Afghan nationals are camped outside the perimeter of the airport in desperate attempts to escape on the last flights out, some with the special visas allowing them to leave.
Then again, we can't help but wonder: is this "threat" actually credible? Or merely an excuse for Biden & Co. when they inevitably fail to get everybody out in time.
A senior U.S. official, who spoke on the condition of anonymity about confidential assessments, told the NYT that the US is monitoring a "specific" and "credible" ISIS threat. Apparently, ISIS has carried out dozens of attacks in Afghanistan in recent years (and a regional ISIS leader was one of the few prisoners executed by the Taliban following their takeover).
British armed forces minister James Heappey told the BBC radio that intelligence of a suicide bombing by ISIS had become "much firmer" since the weekend.
"I can't stress the desperation of the situation enough. The threat is credible, it is imminent, it is lethal. We wouldn't be saying this if we weren't genuinely concerned about offering Islamic State a target that is just unimaginable," Heappey said.
Australia also issued a warning for people to stay away from the airport while Belgium ended its evacuation operations because of the danger of attack. The Dutch government also issued a warning and said it expected to carry out its last evacuation flight on Thursday, leaving behind some who are eligible to travel to the Netherlands.
But despite the warnings, a Western diplomat in Kabul told Reuters that the areas outside the airport gates remained "incredibly crowded".
Even the Taliban are reportedly worried about the prospect of an ISIS attack.
"Our guards are also risking their lives at Kabul airport, they face a threat too from the Islamic State group," said a Taliban official, who spoke on condition of anonymity.
Civil aviation official Ahmedullah Rafiqzai told Reuters that people continued to crowd around the gates despite the attack warnings because "[p]eople don't want to move, it's their determination to leave this country that they are not scared to even die."
An attack would put the remaining western forces in Afghanistan in a difficult position, since they're not exactly prepared to attack or defend anything, or anyone.
"Western forces, under no circumstances, want to be in a position to launch an offensive or a defensive attack against anyone," the diplomat added.
11 days have passed since the Taliban swept into Kabul, and in that time, the US and its allies have mounted one of the biggest air evacuations in history, bringing out more than 88K people, including 19K on Tuesday alone, out of the country. The American military says planes are taking off roughly every 39 minutes on average.
And as the evacuation winds down, western reporters have continued to report on rumors out of Panjshir, a mountainous district not far from Kabul where the last remnants of Taliban opposition have gathered. The Taliban claim their fighters are working on getting the situation under control, but on Thursday, the Huffington Post published a story about the "National Resistance Front" – a group made up of former Afghan National forces hiding out in the mountains.
At least 1,000 displaced people are currently hiding in the area. But it's not clear how many soldiers are there to actually fight the Taliban, which already has 75K fighters.
The resistance is reportedly being led by Ahmad Massoud, son of the late Ahmad Shah Massoud, the famous guerrilla commander who helped fight off the Soviets.
Massoud is so brazen, he published an op-ed in the Washington Post last week calling for aid to the mujahideen resisting the Taliban.
Of course, Americans of a certain age likely remember how well arming the last two rounds of anti-government resistance fighters worked out for the US.
Via Zero Hedge