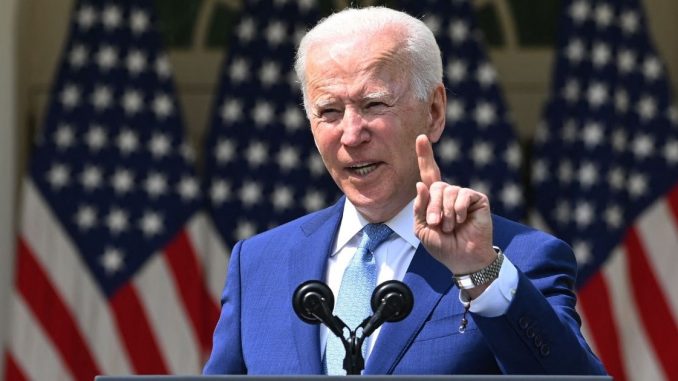 President Biden
 on Wednesday evening urged Congress to pass gun legislation, calling on Senate Republicans to support House-passed bills on the matter.
During a speech made to a joint session of Congress in the House chamber, Biden called the problem of gun violence an American problem, rather than a partisan issue.
He called on GOP lawmakers in the upper chamber to enact gun reform legislation.
"I don't want to become confrontational but we need more Senate Republicans to join with the overwhelming majority of their Democratic colleagues, and close loopholes and require background checks to purchase a gun," he said.
Two House-passed bills that are stalled in the Senate would strengthen background checks and close the so-called Charleston loophole by extending the time federal investigators have to conduct background checks.
Biden also called for a ban on assault weapons and high capacity magazines, echoing comments he made following the recent mass shooting in Boulder, Colo.
"We need a ban on assault weapons and high capacity again. Don't tell me it can't be done. We did it before and it worked," Biden said on Wednesday.
Congress passed a 10-year ban on assault weapons in 1994 under former President Clinton, when Biden served in the Senate. Biden said that mass shootings and gun violence prevention declined before the ban expired in 2004.
"We beat the NRA," he said."In the early 2000s, that law expired and we've seen the daily bloodshed since. I'm saying if the law continued, we wouldn't see blood shed."
Biden on Wednesday followed Clinton, who in 1993, was the last president to highlight gun violence prevention in a first address to Congress.
Biden started his remarks on gun violence by calling for the reauthorization of the  Violence Against Women Act, which would close the "boyfriend loophole" to prevent abusers from purchasing firearms.
"It's estimated that more than 50 women are shot and killed by an intimate partner every month in America, 50 a month. Let's pass it and save lives," Biden said.
The speech follows a slew of mass shootings the U.S. has endured since Biden took office in January including a shooting spree that took place in Atlanta, Ga., at several massage parlors. The events in Atlanta killed eight people, the majority of whom were Asian women.
He called gun violence "an epidemic," and noted the mass shootings that have taken place this year.
"Our flag at the White House was still flying at half staff for the eight victims of the mass shooting in Georgia, when 10 more lives were taken in a mass shooting in Colorado. In the week between those mass shootings, more than 250 other Americans were shot dead. 250 shot dead," Biden said.
The president announced earlier this month six actions the administration will take to tackle gun violence prevention, including action on ghost guns and red flag laws.
"I will do everything in my power to protect the American people from this epidemic of gun violence but it's time for Congress to act as well," he said.
Via The Hill