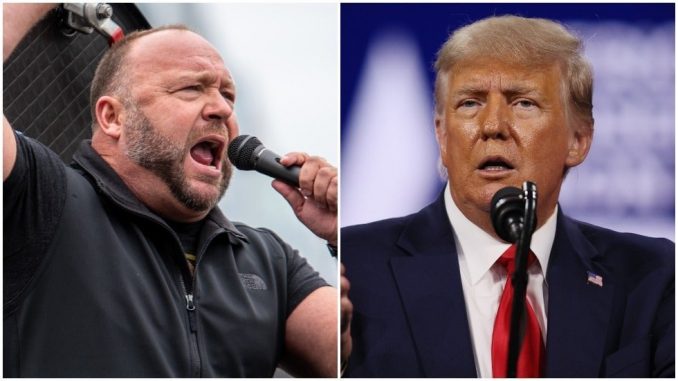 Prominent conspiracy theorist and far-right media personality Alex Jones is seen in a newly revealed video complaining about former President Trump and exclaiming that he wished he had never met him.
"It's the truth, and I'm just going to say it: that I wish I never would have f—ing met Trump," Jones says in the video, which was taken in January 2019. "I wish it never would have happened. And it's not the attacks I've been through. I'm so sick of f—ing Donald Trump, man. God, I'm f—ing sick of him. And I'm not doing this because, like, I'm kissing his f—ing ass, you know. It's, like, I'm sick of it."
The video of Jones was taken by filmmaker Caolan Robertson, who shot a documentary with Jones in Austin, Texas, and leaked it to the Southern Poverty Law Center's (SPLC) Hatewatch initiative, which tracks extremist groups.
Jones has been among Trump's most vocal and bombastic supporters, often amplifying and sensationalizing false or misleading statements the former president makes and stirring up far-right users on the internet.
We have only begun to resist the globalists. We have only begun our fight against their tyranny. They have tried to steal this election in front of everyone," Jones said the night before the insurrection in Washington, D.C., on Jan. 6. "I don't know how this is all going to end, but if they want to fight, they better believe they've got one."
Trump praised Jones as having an "amazing reputation" when he ran for president on 2015 and appeared on his show. He has shared Infowars content to his social media feeds, from which the former president has since been banned for spreading misinformation.
Robertson said Jones "doesn't care about most of the stuff he professes to."
"It just shows he doesn't care about anything he talks about," he said. "He doesn't like Trump but then goes on camera talking about how Trump is the savior."
The far-right agitator has built a multimillion-dollar business selling "supplements, lies and hate," said SPLC senior investigative reporter Michael Edison Hayden.
"It's not necessarily about ideology for him. It's more about money," Hayden said. "Jones, like other extreme far-right grifters, showed how far he was willing to take his hate business on Jan. 6, when he helped inspire Trump's fans to commit an act of political violence."
Infowars did not immediately respond to a request for comment on the leaked video.
Via The Hill