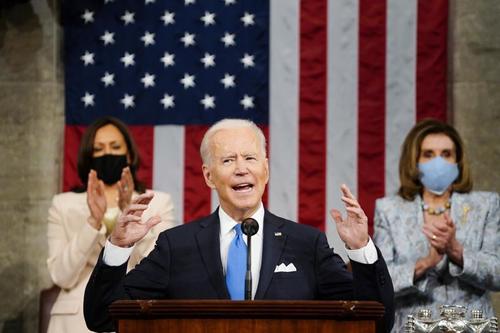 34 million fewer people watched Joe Biden's speech last night compared to Donald Trump's first State of the Union address.
Ratings show that 11.6 million watched Biden's speech compared to 45.6 million who watched Trump's first address to Congress in 2018.
The lowest number of Americans who watched a Trump State of the Union throughout his term in office was 37 million.
Biden barely managed to beat the viewership for this year's Oscars (9.8 million), even though that set a new record low for the Academy Awards
Quick follow up: Biden's numbers are going to rise slightly as cable news and live streaming ratings are added and will probably finalize around 15-17M, which is still less than half of Trump's worst viewership.

— Greg Price (@greg_price11) April 29, 2021

Biden's speeches and public appearances have become notorious for their poor ratings and lack of engagement, unless you're talking about the overwhelming number of people who downvote videos on the official White House YouTube channel.
[ZH: For those wondering, we go to the experts at 81m.org. Biden's speech on the White House Live site got a mere 40k views with 7.7k Dislikes and only 600 Likes…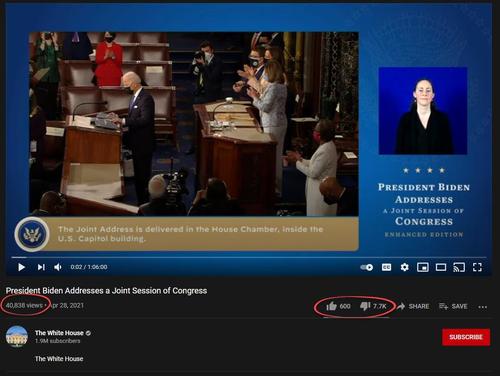 And even then, YouTube manipulated around 10% of the Dislikes…

As a reminder, Biden officially received 81 million votes during the presidential election, the most a presidential candidate has ever received and over 11 million more than Barack Obama achieved in 2008.
Respondents to the announcement of the viewing figures expressed their surprise, given Biden's overwhelming 'popularity' in 2020.
"Most popular president of all time," commented one.
"Just wait, Dominion is finding more viewers as we tweet," joked another.
"Biden's speech to Congress was not only boring, but the chamber was mostly empty. Even the Democrats who showed up couldn't stay awake," remarked another.
Via Zero Hedge